In ancient times, being left-handed was thought to be a sign of being possessed by the devil. Some people were put to death for it.
'Oh, how times they have a changed!'
Today, lefties often have an advantage over their more numerically superior right-handed counterparts. In sports, lefties can use their handedness to set themselves apart, make themselves confusing to opponents, and forge long careers as specialists.
Many of the most successful athletes in history were left-handed. Babe Ruth, certainly the most famous American athlete, was a lefty. Here are five left-handers who are famous in Detroit sports lore, not just for their favored hands, but also their success and popularity.
Ty Cobb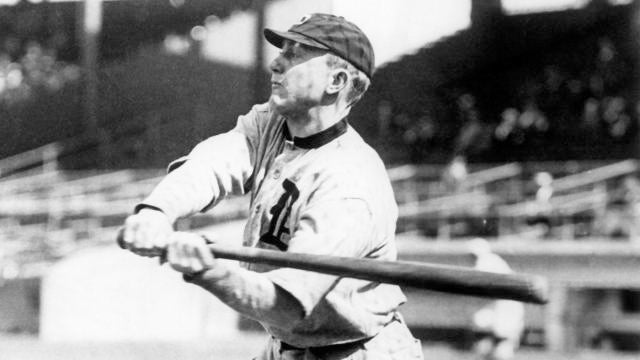 Before the Babe, and before Detroit was known as the Motor City, Ty Cobb was baseball's greatest ballplayer and an icon in Detroit. Cobb threw right-handed but  batted left-handed. He was never known for his arms though – his legs were his most powerful limbs – performing daring baserunning feats in the era of the deadball. From the left side of the plate, Cobb hit .367 for his career, far and away the highest mark in baseball history. Cobb loved golf, though he was never a great player on the links, and he used his left-handed clubs in his famous matches against Ruth during the 1930s.
Hal Newhouser
Though it was brief, Newhouser's greatness surpasses all other pitchers in Tigers history, at least so far. He won two MVP Awards and topped the 20-victory mark four times in a five-year stretch from 1944-1948. Born in Detroit, "Prince Hal" was famous for his overhand curveball, which was especially difficult for left-handers to hit. Among lefties (since 1900), only Lefty Grove ever eclipsed Newhouser's 29 wins in a season.
Terry Sawchuk
As long as he was in a Red Wings sweater, Sawchuk played brilliantly and stayed away from trouble. But when he got off the ice or went elsewhere to play for other hockey clubs, he found pain and ultimately death. The left-handed Canadian was in net for the Wings before his 20th birthday, and he won the NHL"s Rookie of the Year award after flashing brilliant reflexes in the goal. He helped lead the Wings to four Stanley Cup titles, and put up an almost impossible-to-believe total of 115 shutouts. In 1970, Sawchuck was with the New York Rangers when he got into a playful scuffle with his roommate, suffering internal injuries. After scores of injuries, many serious, over the course of his 21-year NHL career, and battles with depression, Sawchuk died days later. He was only 40 years old.
Mickey Lolich
Through a fluke accident when he was just a toddler, Lolich became a left-hander. Little Mickey tipped over a relative's motorcycle and hurt his left arm as a result. when it came out of the cast he was forced to use it to strengthen it, and he soon became a lefty. And what a great lefty he was. Growing up in Oregon, where there wasn't a major league club to root for, Lolich idolized the Yankees and Whitey Ford. By the time he was in his 20s, Lolich was facing Ford in the big leagues. With a sharp 90-93 MPH fastball that he could buzz past the batter's knees, Mickey was an excellent hurler for the Tigers. Of course, in the '68 World Series, the southpaw won three games, including Game Seven on two days rest, to cement his place in Detroit lore.
Bob Lanier
In the 1970 NBA Draft, just as Sawchuk was checking out and Lolich was illuminating his star for the Tigers, Lanier was selected as the overall #1 by the Detroit Pistons. With that selection, the Pistons turned around the fortunes of the franchise, laying the groundwork for later glory. Though the left-handed Lanier never won a title with Detroit, he spent parts of ten seasons in Motown, making his signature moves in and around the basket and establishing himself as one of the NBA's best (and most physical) big men. He brought respectability to the Pistons, and helped by his patented left-handed hook shoot from eight foot range, he amassed a 22.4 career PPG average in Detroit. Though his left hand puts Lanier on this list, he was also famous for his feet – size 22 – that were some of the biggest in sports history.